Lord Ganesha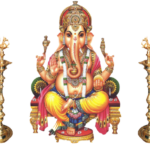 Lord Ganesha is the main diety at the Sri Vakrathunda Vinayagar temple. The first prayer of a Hindu is always to Lord Ganesha. Lord Ganesha is the first son of Lord Siva and Parvathy. Tamils call Him by the affectionate term "Pillayar" meaning noble child. We worship Him primarily to remove all obstacles on our path of progress and to seek His grace to grant us wisdom. When one starts a new venture, one prays to Lord Ganesha first to make sure that there are no obstacles on his / her path of progress. Lord Ganesha has the figure of an elephant head and a potbelly. He is seated on a mouse.
Lord Siva is the Supreme God of Saivism, one of the three main branches of Hinduism (the others being Vaisnavism & Shaktism) practiced in India today. The Sydney Murugan temple follows Saivism. In Saivite temples, the prime shrine is for Lord Siva Himself or another member of the Siva family with four members in all. The other three members are Parvathi or Meenadchi, the consort of Lord Siva, Lord Ganesha , the first son of Lord Siva and Lord Murugan, the second son of Lord Siva.
Lord Muruga
Lord Murugan is the second son of Lord Siva and Parvathi and youngest brother of Lord Ganesha, He is the Lord of righteousness, who protects dharma by destroying evil. Murugan in Tamil means un-decaying beauty and ever lasting youth. Lord Murugan is known as Kandha, Subramanya, Shanmuga and Karthikeya. Lord Murugan is the most popular God amongst Tamils. He has two consorts, Valli(symbolizing desire) and Devasena (symbolizing power of action).
Lord Durga
Goddess Durga is the mother of the universe and believed to be the power behind the work of creation, preservation, and destruction of the world
Lord Vairavar
The Guardian diety of the temple and the devotees with chosen vehicle of Dog which is significant of His attribute.
Sandigeswarar
The penultimate pooja is performed to a small icon located near Divine Mother. It is that of Sandigeswarar, a Saint in perpetual meditation. The priest and the congregation clap their hands gently thrice at the conclusion of the pooja to briefly disturb Him from his deep meditation to solicit His grace
Navagraha
Hindus believe in astrology for which nine planets are considered important. For purpose of astrology, the Sun, though a star is considered as a planet. Two of the nine are really not planets but nodes called 'Rahu and Kethu'. Some planets are considered benefic and generally doing good (for example, Jupiter) and some are considered malefic (example Saturn) or generally doing harm to individuals. So we Hindus pay some respect to these planets too which are considered as semi gods so that the good planets do us good and the bad planets do not harm us.
Dakshinamurthy
Dakshinamurthy is an aspect of Shiva as a guru (teacher) of all types of knowledge and bestower of gnana. This aspect of Shiva is his personification as the supreme or the ultimate awareness, understanding and knowledge. This form represents Shiva in his aspect as a teacher of yoga, music, and wisdom, and giving exposition on the shastras. He is worshipped as the god of wisdom, complete and rewarding meditation.
Lord Hanuman
Hanuman is a Hindu god, who was an ardent devotee of Rama according to the Hindu legends. He is a central character in the Indian epic Ramayana and its various versions. He also finds mentions in several other texts, including Mahabharata, the various Puranas and some Jain texts.