Welcome to Sri Vakrathunda Vinayagar Temple
The Hindu Temple is a place of worship for devotees. Serving the needs of the Hindu Community
Upcoming Events
Maha Sivarathri, 4th March 2019
Panguni Uthiram, 21st March 2019
Maha Ganapathy Homam, 24th March 2019
more events
Opening hours
Weekdays
7.00am - 12.00pm | 6.00pm - 9.00pm
Weekends & Public Holidays
7.00am - 1.00pm | 4.30pm - 9.00pm
Canteen
Tuesday, Friday, Saturday & Sunday
6.30pm - 9.00pm
Saturday & Sunday
11.30am - 2.00pm

Knox Global Kitchen Show
Melbourne Vinayagar Hindu Sangam recently participated in the Knox Festival's Global Kitchen Show in early March, serving up delicious food and lassi for Knox residents.
Reflections by Secretary and Canteen lead Balaa Kandiah:
"I was introduced by Lillie, who was the initiator and the coordinator for the Global Kitchen Show at the Knox Festival.
I gave an introduction of our Temple and MVHS. I also introduced the volunteers who came along to help us as well as Chef Selvam and Assistant Indiran.
We started making and distributing fresh Mango Lassi. Everyone enjoyed it. We then started preparing chutney, potato masala and sambar to show guests how they were made.
We made variety of Dosas and Uthappams and served all who attended. It was a successful event."
Notice Board
Dear Devotees,
Sunday, 24th March 2019
Maha Sangadahara Sathurthi Ganapathi Homam
Sunday 24th March 2019 From 8.30 am to 5.30 pm
On the very auspicious occasion of the Sangadahara Sathurthi, a Maha Ganapathi Homam will be performed on Sunday 24th March 2019. In this Homam Lord Ganesha's Manthra will be repeated 40,000 times by 5 priests over the whole day.
Each set of 5,000 Manthras can be sponsored by anyone who wishes to participate. Each of these will be done every hour at following time slots:-
Morning Afternoon
8.30am to 9.30am 5000 mantras 1.30pm to 2.30pm 5000 mantras
9.30am to 10.30am 5000 mantras 2.30pm to 3.30pm 5000 mantras
10.30am to 11.30am 5000 mantras 3.30pm to 4.30pm 5000 mantras
11.30am to 12.30pm 5000 mantras 4.30pm to 5.30pm 5000 mantras
Yours sincerely,
Management committee
New Saiva Neri Book New Saiva Neri_December_2018

A Brief History of Our Temple
Sri Vakrathunda Vinayagar temple was the first traditional Hindu temple established in Melbourne, 1992. Since then the temple has fulfilled the spiritual and cultural aspirations of thousands of Hindus in Melbourne.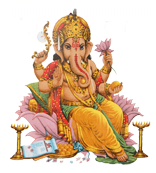 Punarutharana Maha Kubabhishegam (Restorative Consecration Ceremony) was conducted on 17-06-2007. The temple has been extensively renovated, with new shrines built, a Rajagopuram added and its internal and external decorations refurbished or enhanced.
Read More